July 8th, 2005
---
02:09 am - Throwing a party, very soon
Up late again, pushing screendust towards the dawn, but at least, at least, it's for a very good cause.


July 6th, 2005
---
12:02 pm - Look mum, I'm famous!
It looks like my morning bluebottle addiction ritual has not passed unnoticed,




thanks Steve.


I had a gorgeous shot there this morning, and ran into my friend Marcus, all lanky in his cycling gear. We talked a bit about mutual friends (happy birthday GiL!), my new bottle of Absinthe, a gift from the talented Lance, and about taking risks, those leaps into the unknown. I'm thinking about it.. I've got a few things in the works, some interesting plans, and more than one slightly big dream.. I just hope I can find the balance, between the dreaming and the making. At least, my inspiring friends help a great deal.

I know I know, I've said it before, but I adore Andrew Bird.

I hope he comes to play here again soon.

In the meantime, I'm off to eat chocolate cake in the sun
Current Mood:
amused
Current Music: andrew bird

June 21st, 2005
---
04:52 pm - Musical things
Yesterday I made some promo's for Boom Bip as part of my dayjob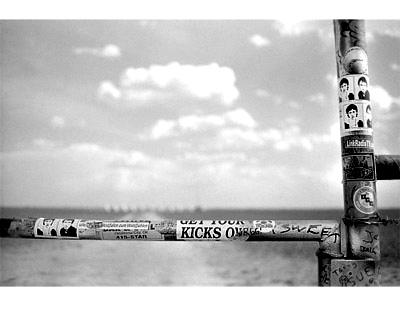 In the process I got to discover some cool new music

and some interesting photographers at work in LA.

I love it when that happens.
Current Mood:
accomplished
Current Music: S. (for Hubert)-Kohn-Bip-Hop generation v2

04:42 pm - Blogging elsewhere
I've just started contributing to vagablond, good thing they don't know I'm a brunette. Seriously though, check it out, there are some inspiring reviews there to be sure.
Current Mood:
accomplished
Current Music: The Move-Boom Bip-http://music.download.com

June 6th, 2005
---
June 3rd, 2005
---
10:25 am - Favorite things about San Francisco part 1



this mornings meditation

dark crema, warmer than blood.
Bittersweet petals unfold;
caught up in my reverie I get up, walk away.
"Stellah", the barrista, calling my name I turn,
so enchanted was I, that I'd forgotten to pay.

Almost every morning I walk across Alamo square on my way to work

"7am, dogs splash in puddles
still pooled from long past rains,
golden dome glittering.

Skyline fades in, fades out.

Transamerica shamelessly postures,
black windows winking darkly.

The fog veils the slumbering ladies,
tucked up side by side, painted faces framed
with matching lace, faintly awry.

Shoes stuffed with earth,
bloom amidst cracked mirrors,
neatly paired. My face, wavers in the glass.
Someone's altar.

Stooped at the foot of the weeping willow,
the gardener bends, a small white flower
flourishes in the cup of his palm."

I walk down to Hayes Valley. I start to smile as I get closer, at the shuttered stores with their fancy things,
at the black ladies already up and sweeping the church stoop. I'm smiling because I know, very soon, I'll be drinking a perfect shot of espresso, and bantering with my fellow addicts as we stand about, waiting our turn for a shot.



09:34 am - Los Angeles - City of dreams


It seems like for so many who live there, they are neither happy with where they are, nor with who they are.. Busboys dreaming of being discovered, and cab drivers so sure that their next screen play is going to launch their career.. You see that far off look on so many faces, and then in older people, eyes and mouths marked with the dissapointment at all those dreams unrealized.

It's funny though, I've never seen such an ugly place be as photogenic as Los Angeles. I took lots of pictures, the smog filtered light there is interesting, and somehow, veiwing it all through the frame of my camera lens made it easier to deal with my sense of dislocation. Perhaps it's because that's the way we are all familiar with LA, we've been shown the city over and over, always framed by a camera, and someone elses gaze.

The highlight of the trip would have to be the meal Abbey and I shared at Sushi Roku. We were seated in front of the head sushi chef, and he fed us wonders, like wild sockeye salmon marinated with seasalt and kelp, and literally dazzled us with his blowtorch seared toro.

We also shared an excellent picnic in Griffith park, made with the fixings we bought at the marvelous cheese shop in silverlake.

The coffee in LA sucked and I was grumpy about not getting a proper fix for the three days I was there. It's kind of amusing to notice in myself how as I get older my habits get more and more ingrained.

Actually, the difficulties of the trip have proved to be illuminating, my feelings of isolation there forced me to turn inward and have inspired some interesting questions.. Maybe that was the point of it after all. I rail at the discomfort, but I am grateful for what it teaches me.



Current Music: If There Be Rivers, All Will Blossom (1997) - Sasha Bogdanowitsch-Pusaka Sunda-Samagaha

January 11th, 2005
---
12:37 pm - Memoirs - the first class
Last night I started a writing class, and a good thing too, it's been ages since I've written with any consistency, and the little voice has been nagging quietly at the lack of a suitable outlet.

So after walking through the rain down Mission in my new</a> green boots, after stopping to buy fresh mint, sake and mirin for tonight's dinner party for Shelley and Greg, and after stopping for a small dinner of good falafel and dolma, and a cup of Moroccan tea, I found myself at Pam's front door.



(

read more..Collapse

)


Current Mood:
nostalgic
Current Music: Dreams Made Flesh-This Mortal Coil-It'll End in Tears

September 11th, 2004
---
03:25 pm - A party soon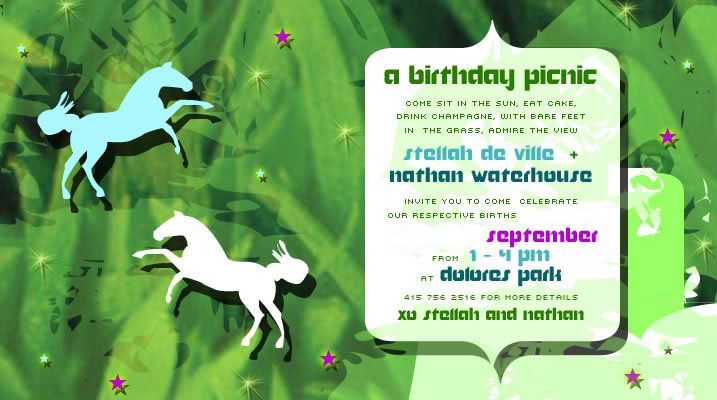 Current Mood:
sleepy
Current Music: Risky Wank-Fila Brazillia-XLR8R Magazine - Convergence

03:23 pm - Virgo birthdays
Last night I made dinner for my friend Mike. It was one of those inspired evenings, balmy, with fireworks over the water, and wonderful company, wine, dancing and laughter.

I made

tuna tartare with chilli oil and
wonton crisps
Freshly shucked oysters with coriander and lime

then a lemongrass and tamarind broth with salmon wontons,
giant freshwater shrimp and thai basil

Miso marinated black cod
roasted chinese eggplant with ginger and shoyu
wok seared shitakes and baby bok choy

Chocolate pave with a hint of chili and cardamon
and a leatherwood honey and ginger ice cream

later slightly drunk we made our way to Mighty to hear Freq Nasty play and we danced indoors close as close until we were bathed in sweat, and then we danced some more.

My friends are naughty children, oh yes, they are.
Current Mood:
sleepy
Current Music: Barrel Of A Gun-Depeche Mode-Ultra